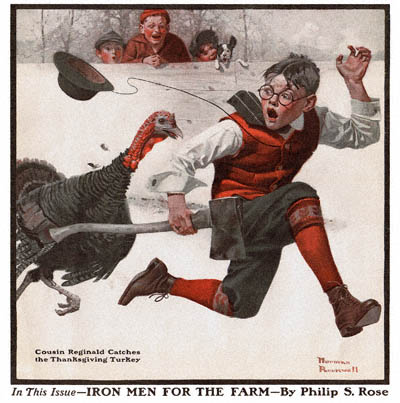 Preparing Thanksgiving dinner can be a daunting task: shopping, prep, cooking, and, finally, guests judging the centerpiece of most celebratory dinners, the turkey. Though I don't mean to add to holiday stress, we must privilege food safety just as we do taste. As your turkey thaws, bacteria can multiply, so as you prep the bird, keep a few things in mind.
On thawing: It's tempting to put a frozen turkey on a plate in the corner and let the room temperature do all the work. We're busy, after all. But as soon as that bird begins to defrost, it approaches the "danger zone"—between 41 and 135 °F—temperatures where foodborne bacteria multiply rapidly. As such, use one of these three thawing methods to ensure a safe feast.
In the refrigerator: Should you choose to marshal the refrigerator, plan ahead, but not too far ahead. A thawed turkey will last 1 to 2 days.  Keep the temperature below 40 °F and allow 24 hours for each 4-5 pounds of meat. To prevent juices from contaminating other food, use a tray or container of some sort.
In the microwave oven: Most turkeys come with microwave instructions, so a wise chef will follow them. A wise chef will also cook the turkey immediately after it is thawed, as parts will have already warmed and cooked during microwaving. We really don't recommend this method though.
In cold water: Use a leak-proof bag to prevent cross contamination or a water-logged main course. Allow for 30 minutes per pound and change the water every 30 minutes or so until the turkey thaws. Like microwaving, a cold-water-thawed turkey must be cooked immediately after.
On stuffing: Where I come from, we cook stuffing in a casserole dish. But advanced cooks and/or purists actually, you know, stuff the turkey. For tasty and safe results, stuff the turkey just before cooking.  Make sure the center of the stuffing reaches a safe temperature, a minimum of 165 °F.  Foodborne bacteria can survive in stuffing that doesn't reach 165 °F.
On cooking: Set the oven to 325 °F. Place your thawed turkey breast-side up in a shallow cooking pan.  Cooking times will vary, but the most important tool (aside from your baster) is a food thermometer. Check the internal temperature at the center of the stuffing and meaty portion of the breast, thigh, and wing.   Like the stuffing, the meat should reach an internal temperature of 165 °F.
A Happy Thanksgiving is a safe one, folks. Enjoy those closest to you and feed them well.

Source: CDC.gov, FSIS.USDA.gov